Strip Clubs, Bars,
and Shot Glasses
in
East Dubuque,
Illinois
East Dubuque, Illinois, is a small town in Northwestern Illinois that is situated along the Mississippi River.

I first "discovered" East Dubuque about two years ago. I work with a woman named Tammy, and she and her husband, Jerry, own a boat that they keep docked in a marina along the river (see above).

The French explorer Nicholas Perrot, Julien Dubuque, and Stephen Dubois, were the first known settlers of the town. By 1832, at what is still called Frentress Lake, Eleazer and Diadamia Frentress became the first white couple to farm the prairie. In the same year, the Reverends Crummer and James established the first preaching services in a plank schoolhouse on the Frentress property.

This river settlement was originally called Dunleith; it was named after a Scottish village. The name was changed to East Dubuque in 1877.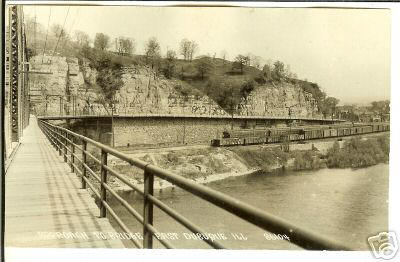 Captain Charles Hamilton Merry owned a ferry service on the Mississippi River between East Dubuque and Dubuque, Iowa. He was also the local railroad agent for the line that ran between East Dubuque and Chicago. But the construction of a railroad tunnel and bridge helped end Captain Merry's ferry business. In 1877 the "High" foot and wagon bridge was built parallel to the railroad bridge.

Both the foot bridge and the railroad bridge can be seen in the picture above.



Captain Merry (above) and the Julien Dubuque Bridge (above right)
(It seems reasonable to say that a bridge put Captain Merry out of business, and so it is ironic that Captain Merry's legendary home, the Merry Building, still stands on Sinsinawa Avenue in East Dubuque, at the foot of the Julien Dubuque Bridge. This bridge was constructed in 1943. It is 7,392 feet long and spans the Mississippi River, connecting the cities of East Dubuque, Illinois and Dubuque, Iowa. It is one of the longest tied arch and cantilevered spans every built.)
Prohibition did not come easy to East Dubuque. When the 18th Amendment went into effect on the Federal level in 1920, people rioted in the streets. Soon speakeasies sprang up. Whiskey stills dotted the countryside. According to local legend, thirsty Iowans purchased their liquor in East Dubuque and trundled it across the High Street footbridge in baby buggies.

As Sinsinawa Street evolved into an unbroken string of strip clubs, bars, and motels, it became known as Sin Street. Indeed, East Dubuque thrived on the sin and booze business, especially since the city was across the Mississippi River from Iowa, where the drinking laws were much more restrictive.

Shown here is a current view of Sinsinawa Street: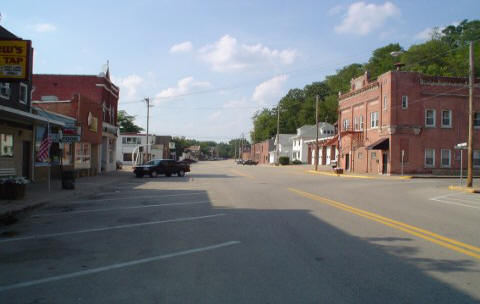 Today, East Dubuque is trying to reinvent itself. For example, the Merry Building has been renovated into an upscale restaurant, salon/spa, and inn. But East Dubuque has not strayed too far from its roots. The town is sometimes called the "Illinois Bar Capitol," because even though its population is about only 2,000 people, there are at least fifty bars in and around East Dubuque.

One of these bars is the "Circle." Mementos of this establishment include this postcard, matchbook cover, and token, which was "good for 25¢ in trade."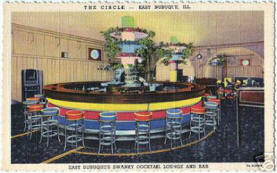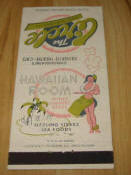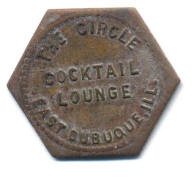 www.stripclubdirectory.com bills itself as, "Your guide to the hottest strip clubs around the globe." The site indicates that there are currently three strip clubs in East Dubuque.

East Dubuque's history is steeped in alcohol; perhaps that is why this town, though quite small, nonetheless boasts an impressive array of at least fourteen different pre-prohibition shot glasses. Shown here are what I believe to be all known examples of East Dubuque glasses.
JOHN GRANT
DISTILLING CO.
EAST DUBUQUE,
ILLINOIS.
JOHN GRANT
DISTILLING CO.
EAST DUBUQUE,
ILLINOIS.
JOHN GRANT
DISTILLING CO.
EAST DUBUQUE ILLINOIS
THE BOTTLED
IN BOND
SHOP
EAST DUBUQUE
ILLINOIS.
THOMAS CLAY CO.
EAST DUBUQUE
ILLINOIS
CHAS. F. HOEFFLIN
FAMILY WINE & LIQUOR HOUSE
EAST DUBUQUE,
ILLINOIS.

THE JOHN ELLWANGER CO.,
EAST DUBUQUE, ILL.
RHOMBERG
Distilling Co.
KEY CITY
CLUB
E. Dubuque, Ill.
THE JOHN KIEFFER COMPANY
EAST DUBUQUE, ILLINOIS
The John Kieffer Company
Wholesale Liquor Dealers
EAST DUBUQUE, ILLINOIS.
THE
JOHN KIEFFER COMPANY
WHOLESALE LIQUOR DEALERS
EAST DUBUQUE, ILLINOIS.
SCHMITT & FERRING
WHOLESALE
BEER, WINE & LIQUOR HOUSE
EAST DUBUQUE, ILL.
SCHMITT & FERRING
MAIL ORDER FAMILY
BEER, WINE & LIQUOR HOUSE
EAST DUBUQUE,
ILL.
SQUARE DEAL SALES CO.
EAST
DUBUQUE
ILLINOIS
Strips clubs and bars—sin and liquor seem to be inexorably tied to the tiny town of East Dubuque, Illinois. I suppose that it is good that we pre-pro collectors settled on the collecting of shot glasses. I don't think that my wife would tolerate a display of G-strings and tassels in our living room!