I know that this is positively heretical—an article about post-pro glasses on a pre-pro website—but hear me out.

While I was trolling eBay, scrolling through the endless pages of glass drek, I suddenly realized that there is a kind of "Rat Pack" charm to 1950s and 1960s advertising shot glasses. And believe it or not, these glasses are kind of hard to find on the glass highway.

Collecting post-Pro Shot Glasses
Sure, there is tons of glass on eBay. But when you strip away the tacky souvenirs, the college and university glasses, the commemorative glasses, and the hundreds of Jack Daniels, Planet Hollywood, and Hard Rock Café glasses, there is very little left. That glass just might be fun to collect as a diversion to collecting the pre-pro stuff. And some of the most interesting glass hails from my home state of Illinois.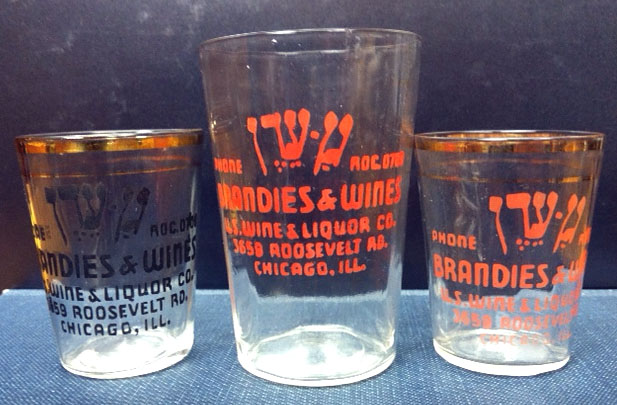 Are these three Chicago "PHONE ROC 0700" glasses pre-pro or post-pro? We don't yet know. We can date them, though, once we understand the history of Chicago's early phone numbers. Until 1923, Chicago phone numbers were just three or four digits, with an exchange name added to the front. For example: CALUMET-555.
From 1921 to 1948, the exchange name was shortened to just three letters, with the letters being part of a name. Four numbers were then added after the letters. For example: CALumet-5555.
Three letters and four numbers—like ROC 0700, the phone number shown on these glasses. 1921 to 1948 puts us at the crossroads of the pre-pro and post-pro time line.
| | |
| --- | --- |
| | This heavy thick-bottomed Chas. A. Zahn "cheater" glass certainly appears to be post-pro. |
Barney's Market Club was a fixture in downtown Chicago for more than sixty years. The owner, Barney Kessel, allegedly could not remember his patrons' names. As a result, when customers went inside, they were greeted with the question, "Yes sir, senators, how many?"
| | |
| --- | --- |
| | This 1945 postcard (phone number ANDover 9795) is post-pro. |
The shot glass certainly appears to be post-pro as well. It has a Hazel Atlas maker's mark (H over the A) embossed in the base of the glass. This mark was used from about 1923 to 1964.
This George Diamond Steaks glass just screams 1950s kitsch. At one time there were steakhouses in Chicago, Milwaukee, and Antioch, Illinois.

Also shown here is a 1956 postcard featuring George Diamond himself.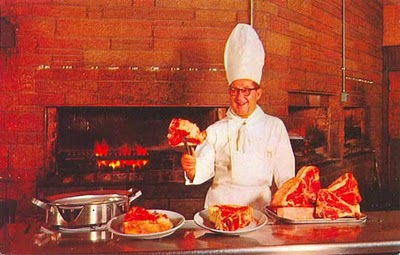 Advertising shot glasses from the 1950s and 1960s that are not just text only are very hard to find on eBay. They may be a welcome sideline to the pre-pro glass collector.