! -- copyright 2009, www.pre-pro.com, all rights reserved -- >
distillery search | pre-pro.com home
---
---
The distillery was built at the foot of Pecan St at S Peoria somewhere around 1899. It was owned and operated by Clarke Bros & Co., a company consisting of Charles C Clarke (President), Chauncey D Clarke (VP), William S Parry (Secretary & Treasurer), William E Hull (General Manager) and Robert D Clarke, who was Manager of the Distillery and later replaced Chauncey as Vice President. Chauncey replaced Charles as President.

The distillery was eventually acquired by US Industrial Alcohol and the brand name became a popular product of Arrow Distilleries Inc., founded in 1933. It closed around 1943.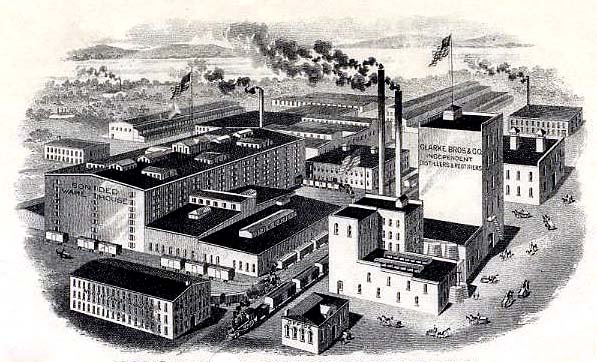 ---
Internal Revenue recorded warehouse transactions for The Clarke Bros. Distillery as follows:
( explain: origin of these records, letter codes )
Copyright © 2006-2023 www.pre-pro.com. All rights reserved.