! -- copyright 2002-2015, www.pre-pro.com, all rights reserved -- >
Responses from collectors - please drop a line to glassmaster@pre-pro.com to have your comments added: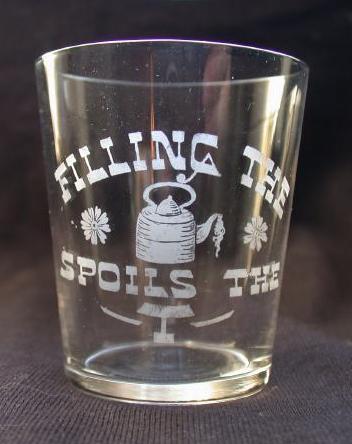 From Gary: I think it means, don't fill the glass with whiskey right to the top because too much whiskey is not good - rather the opposite of your suggestion that too much water ruins the drink. You may be right, of course, but I think the legend may be saying, don't drink too much. I guess one thing I am not sure of is, did people typically pour water in the whiskey in the shot glasses (which are relatively small and not highball glasses of course)? Or did they drink the whiskey neat? I would have thought the latter, mostly, hence my theory, but I am not sure!


From Alice (originally from her grandmother):

"Lest the kettle boiling B
Filling the teapot spoils the T!"




Nic notes that: Filling the kettle spoils the T is both a rebus or pictogram and a proverb or adage. In this case it strikes me as meaning that diluting the liquor with anything else ruins it, so it is preferable to drink a neat jigger to a sling, hence the choice of glass size.



Copyright ©2002-2015 pre-pro.com. All rights reserved.
Please contact the glassmaster with questions or comments