Ken had saved the best moment until last, and we were now in front of the shot glasses. His collection amounts to over 850 glasses that jostle for space in three large, doubled-glass-doored wall displays, each holding three wooden shelves.

"I had everything in here custom-built to my own design" Ken remarked, and his keen sense of what makes a good display was readily evident: the array of glass was stunning. Each of the shelves within the cases supported four long stepped tiers. Ken had crafted these tiers himself (*see footnote) and covered them with black felt to provide optimal contrast between etched labels and background. Individual tiers were slightly deeper and taller than a standard glass and were capped with a fluorescent fixture that spanned the length and width of the shelf. Thus, each glass was illuminated perfectly by the light overhead and even the glasses with worn labels were easy to read. Not that there were many with worn labels: virtually all looked to have been freshly minted and I asked Ken if he upgraded frequently. "No" he replied, "but if I have one with a weak label, I indicate that with a W in my book and then replace it if I get the chance."
Even though I had spent several weeks poring over photographs of Ken's glasses, meticulously documenting and researching them for the database, seeing them here was overwhelming, and I moved from case to case in wide-eyed wonder. At some point the trance was broken and I remembered that I was here to take measurements of the many unlisted glasses. I briefly excused myself and went to retrieve my calipers, laptop, camera and tripod from the car parked around the back of the house.

When I returned, Ken was sitting comfortably next to the gaming table surveying his shot collection. This seemed like an ideal time to find out more about the history of the collection, particularly since a secondary purpose of my visit was to formally interview Ken for a future edition of "Random Shots".
I pulled my digital voice recorder from my travel bag and asked permission to turn it on. Previous experience has shown me that I forget and then reinvent 80% of what I'm told by other collectors, and I wanted to be sure to have an accurate record when the print deadline was approaching several months down the road.
Playing the role of cub reporter does not come easily. Probing a collector's interests and background is relatively easy when conducted over a period of days or weeks via e-mail, but sitting here with a recorder running was acutely uncomfortable. Ken eyed me with wry amusement, as if I were there to complete a grade-school project. When Howard Currier and I first started talking about featuring collectors and their glasses in Bottles and Extras magazine, I sent him a list of questions that I'd like to have answered by the blurocs and genuines of this world. I was now mentally reviewing that list and wondering where to begin.
The problem was that I was sitting in a room that housed one of the country's premiere collections of pre-pro whiskey, of which shots were only a small part. Thus, asking a question like "do you remember buying your first pre-pro glass" would have been patently asinine.

Not that that stopped me.

Q: "So, Ken, how did you get started in shot collecting".
Ken shot me a good-natured look that made it clear that he thought he may be in the company of a gibbering idiot.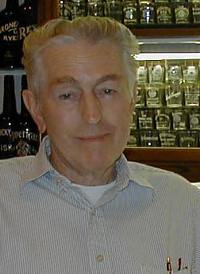 A: "Well I got started with bottles with Warner's Safe's.. " (I'm paraphrasing extensively here) " …. and then I bought many of my shots from John Thomas. Most of my shots came from other collections. I got a bunch from Bergseng. He was from the Portland area. I bought many from Barnett over time".
During the course of our later discussions, Ralph Hollibaugh's name came up several times as being a source of some of the rarest shots exhibited here. Ralph is another legendary collector based on the west coast who sold the bulk of his famed shot collection to Ken several years ago.


* If you're interested in building a similarly tiered display, the units are 25" wide and the tiers 2-1/2" tall, 2" deep.
Next: A Conversation with Ken, continued
Copyright © 2006 pre-pro.com. All rights reserved. Please contact the glassmaster with questions or comments
Ken Schwartz Collection home | www.pre-pro.com home