Q: "Do you find many glasses at shows?"
A: "Many've come from shows but it's getting difficult to find glasses that I don't already have any more. I got three at this one" (referring to the FOHBC National in Reno).

Q: "How about eBay?"
A: "I don't mess with eBay -- don't have the time."

I was interested to discover a glass in Ken's collection that I recognized as having been bid on and won by Bob Barnett, the mail-order dealer. Then I found another, a rare "Old Cutter" that had fallen for over $180 to an unfamiliar buyer on eBay just weeks ago, and it dawned on me who lay behind the mystery bidder id. Upon my return home later that week, I searched my sales database and found that Ken had taken only four glasses off the auction site over the past five years.
Q: "You have a few eastern glasses but most of your collection comes from the west coast. Do you maintain a strong collecting focus?"
A: "Well" and he pauses " … other collectors like Lucchesi try to collect shots to go with their bottles. That's kind of neat. But I'm different – if I'm going to collect shot glasses then I'm going to collect them all. I try to restrict myself to western glasses but man, I want them all".

Amen to that!

Q: "What's your favorite glass?"
At this point, we both stand and step back over to the lighted displays with their rows of delicate enamels and label-unders. Here were the many of the glasses that appear in HSG and OASG: the labels that were painstakingly copied free hand by Barb Edmonson. Here's a Royal Stag, a Rothenberg Mendle's Gamecock, an original Truog-designed Old Crow from Gaines of Louisville. These are the glasses that inspired us as neophyte collectors. I'd be hard-pressed to name a favorite among such a grouping and decide to let Ken off the hook and instead ask which was the most valuable.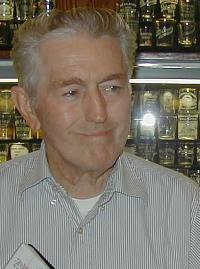 He had to think about that one.
A: "I picked up most of good glasses in the early days so I'm not sure which cost the most...."

He pulled the black-etched Old Buck from the display case.

"I traded Richard Siri three Cutter back-bars for that one".

I'm not sure what the current Cutter-to-Buck conversion factor is, but I suspect we're talking hundreds of dollars.

"Maybe the Thomas Taylor or the Pioneer Bear? They were expensive".

My pick would probably have been one of the many rare label-unders, but then I'm a sucker for the lugs.
He had two different Red Top Rye variants: the last time I'd seen one of those, it was being felled on eBay for $660 and change. Then there was a Lovejoy & Co. from Hawaii. Not a fancy glass, but Hawaii was only a Territory in those days. I'd hate to have to calculate a snipe maximum for that one.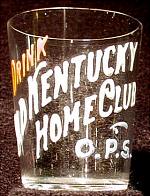 While we were in the "special" glass section of the display, Ken motioned toward the rare "Drink Old Kentucky Home Club" colored enamel. This was not the more usual white enamel with hand-applied pastel highlights, but solid color enamel in red, white and blue. "I've had two of those," he noted. "I broke the first but I put the shards right back on the shelf until I could find another".
I swallowed hard and hoped the Glass Gods were sleeping.



Next: At the End of the Day
Copyright © 2006 pre-pro.com. All rights reserved. Please contact the glassmaster with questions or comments
Ken Schwartz Collection home | www.pre-pro.com home