Philip Freiler
and his
Shot Glasses

The shot glasses of Philip Freiler include some of the most beautiful, detailed, and rarest glasses found in the pre-pro database. A "Common Stuff" article on his glasses is clearly long overdue.
Philip Freiler was born in Hartford, Connecticut, on April 3, 1860. His parents, Joseph and Mary Freiler, moved their family to Chicago in 1867, where Joseph started a wholesale liquor business. In 1878 the Freiler family moved to Elgin, Illinois, where Joseph started a similar business. In 1883, due to failing health, Joseph sold his liquor enterprise to Philip.

Here are two pictures of the Freiler establishment on River Street in Elgin. Freiler is pictured in the one faded newspaper photograph. He is the fourth person from the right, standing, with no coat or hat. An arrow points to him.
Philip Freiler and his wife Elizabeth had four daughters. The family lived on Douglas Avenue in Elgin. At right is is a picture of their home, taken in about 1895.

Remarkably, there seems to be a connection between Freiler's whiskey and an Elgin watch company!
| | |
| --- | --- |
| | The National Watch Company was incorporated in 1864. The company was reorganized in 1865 and a factory was built in Elgin in 1866. In 1874 the company changed its name to the Elgin National Watch Company. |
As the accompanying illustrations indicate, the symbol of the Elgin National Watch Company was Father Time.

All of these pictures show a winged Father Time facing to the right, holding a scythe in one hand and a clock in the other.

It appears that when Philip Freiler introduced "Father Time Whiskey" to the drinking public, he merely flipped the Elgin National Watch Company picture over and used a version of this Father Time as his logo! These two "Father Time Whiskey" shot glasses also show a winged man holding a scythe and a clock, but here the figure is facing to the left.


The connection seems to be indisputable.

Father Time has been around for hundreds of years, but the wings seem to be an almost unique feature, and both the National Watch Company logo and the Father Time Whiskey glasses feature a winged Father Time.
Philip Freiler was not merely a local whiskey wholesaler. He sold his product throughout the Midwest, and he did not sell just Father Time Whiskey. Shown here are two "Century Club Whiskey" glasses. As you can see, the one at right hails from Owensboro, Kentucky.
Philip Freiler glasses run the gamut from the beautiful Father Time Whiskey glasses to these very plain looking all-text glasses.

In 1938 the Century Distilling Company got into a trademark dispute with the Schneider Brewing Company. This federal case, indexed as 26 Fed. Supp. 936, offers some wonderful information about Philip Freiler in the opening paragraphs:

"One Philip Freiler of Elgin, Illinois, first used the name 'Century Club' as a name of whiskey in May, 1883, and established it as a well-known brand with a wide distribution in the Middle West. When the City of Elgin went dry under a local option law in 1914 he sold his entire business to Henry A. Klein, doing business as the Liquor Dealers Supply Company. Before that time, however, and on April 20, 1905, Freiler had registered the trade-mark 'Century Club' for whiskey and registration was issued to him by the Patent Office March 19, 1907.
Klein paid an ample consideration and continued the business under the Freiler name and manufactured and distributed gin and whiskey as "Century' until prohibition."

This case was appealed in 1939, and the lead paragraph of this case confirms that
"Philip Freiler was engaged in the wholesale liquor business at Elgin, Ill., from 1883 to 1914."



Freiler died on April 11, 1916, in Elgin, and he is buried in Waldheim Cemetery, Forest Park, Illinois. This cemetery features the famous Chicago Haymarket monument.




Philip Freiler has been gone for almost a century, but luckily for us, his glasses live on. None of the glasses pictured here seem to be all that common. It seems likely that one could spend years trying to amass a complete collection of all the Freiler glasses. There are also Freiler advertising items, such as these playing cards.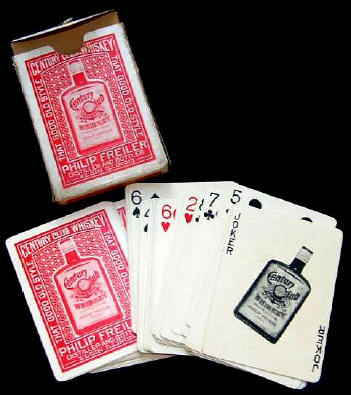 .