"Hey, How About
That
Shot Glass?"

In Robin's recent report of the Federation of Historical Bottle Collectors' Reno, Nevada, show, he drooled over a "one-of-a-kind black etched Davy Crockett" shot glass. This glass, shown at left, hails from the creative minds of Hey, Grauerholz & Co.
We don't have a lot of information about this company. The pre-pro database reports that in his early years, John Hey worked as a porter for the wholesale wine and liquor company, Kelly, Henderson & Gilchrist. In 1883 Hey broke away from this company and started his own business, working in partnership with Henry J. Grauerholz and Henry Fautz. The name, "Hey, Grauerholz & Fautz" was used from 1884 to 1887. Later, the name became the more familiar "Hey, Grauerholz & Co."

In 1906 this company was hit by the San Francisco earthquake. At that time it appears that the business was located at 224 Front Street. Shown here are two pictures of Front Street that were taken after the earthquake: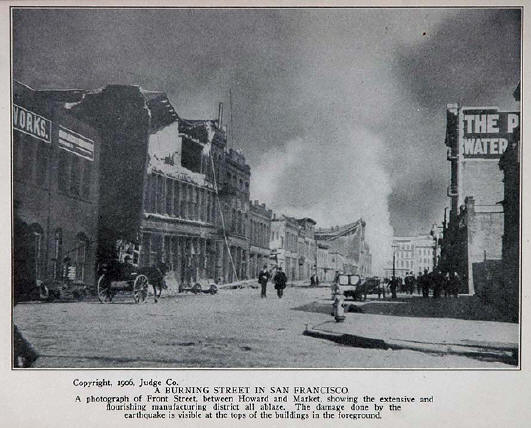 Both pictures show evidence of burning buildings. Historians have estimated that up to 90% of the earthquake's total destruction was the result of post-quake fires. More than thirty fires, caused by ruptured gas mains, destroyed approximately 25,000 buildings on 490 city blocks.

Contemporary stories add a horrific tenor to the effect of these fires. Consider the two following accounts.

"When the fire caught the Windsor Hotel at Fifth and Market streets, there were three men on the roof, and it was impossible to get them down. Rather than see the crazed men fall in with the roof and be roasted alive, the military officer directed his men to shoot them, which they did in the presence of 5,000 people."

"The most terrible thing I saw was the futile struggle of a policeman and others to rescue a man who was pinned down in burning wreckage. The helpless man watched it in silence till the fire began burning his feet. Then he screamed and begged to be killed. The policeman took his name and address and shot him through the head."

Note, though, that these two incidents may be apocryphal. In my study of the Great Chicago Fire of 1871, I discovered that the many stories of murder and mayhem on the streets of the Windy City were largely fictional.
| | |
| --- | --- |
| The pristine black-etched glass pictured above indicates that one of the brands of whiskey that Hey, Grauerholz & Co. sold was Davy Crockett Pure Old Bourbon. Shown here is both another version of this glass and also a whiskey bottle. | |
Hey, Grauerholz & Co. also sold "New Century Bourbon."

After the earthquake, Henry Grauerholz rebuilt a wholesale trade business, and this company, "H.J. Grauerholz," continued until 1913, selling "Graywood" whiskey and bourbon.
But the brand name "Graywood" seems so mundane when compared to the "Davy Crockett" brand. And little wonder. David "Davy" Crockett was a real-life 19th century folk hero who fought and died in 1836 at the Battle of the Alamo.

It comes as little surprise that Hey, Grauerholz & Co. was not the only company to place the Davy Crockett name on a shot glass. Note two other examples, shown at left.

Alas, it appears that during the years after the repeal of Prohibition, the story of Davy Crockett faded into obscurity. But not completely--his legend exploded back into the mainstream of the national consciousness in the 1950s. Across the country post-World War II families were putting television sets in their living rooms, and with his TV show starring Fess Parker, Walt Disney was able to introduce a whole new generation of Americans to this "King of the Wild Frontier."
| | |
| --- | --- |
| But what inspired Disney to bring back this forgotten icon of the American West? Perhaps Disney was sitting in his study one evening, drinking whiskey out of a shot glass that a grateful parent of one of his mouseketeers had given him. As he held the glass in his hand, he looked down at its etched image, and he started thinking, "I wonder if. . . ." | |