National Prohibition came into force at midnight on January 16, 1920. Thus, by definition, a "

pre-Pro

" shot glass includes any made before that time.

In practice, most of the glasses featured on this website date to the first two decades of the twentieth century (

ca

. 1905-1915), although they began showing up around 1880. A typical pre-pro shot glass is quite unlike the heavy modern glasses commonly found in gift shops, souvenir stalls, and retail establishments such as the Hard Rock Café. A pre-pro glass usually stands around 2-1/2" tall and is

extremely

delicate, its walls almost eggshell thin. This makes them deceptively light, almost as if they were made of plastic rather than fine crystal glass.

Most pre-pro glasses have "white frosted" labels comprising a few lines of text or an elaborate design whose intricacy and delicacy immediately identify it as a product of an earlier time. Some examples of such glasses are shown at right.

There are many other styles of pre-pro glass and label, including heavy cheater glasses, tonics, metal thimbles and sliders, and thin-walled glasses labeled in color or with thick, white, toothpaste-like enamel. Much more information on glass- and label variety can be found in the "Collecting pre-Pro's" section of this website.

This and the pages that follow provide a brief introduction to the history of pre-pro glasses, including the reasons why they were made, who made and decorated them, how they were distributed, and the consequences of Prohibition both for the liquor industry and glass production.



~~~~~~~~~~~~~~~~~~~~



Americans had a very different attitude toward beer and whiskey during the years leading up to Prohibition compared with today. Today, we take the ready availability of pure water for granted, but in the 1870s, sources of untainted water were uncommon and unreliable. Beer was considered a pure, healthful alternative and thus was consumed in quantity by both men and women.

Beer was available from saloons, which could be found on every street corner. Although it was quite usual for a working man to retire to his local establishment every evening to have a few beers at the bar with the regulars, saloons were also important social centers that often provided food and back rooms where the whole family could gather and eat. During the daytime, women and children might drop by their local saloon carrying a pail known as a "growler", refering to the noise it made as it was slid down the length of the bar. The growler was filled with beer and then carried home to be enjoyed later in the day.

Beer was as popular in the late 1800s and early 1900s years as it is now, but the consumption of whiskey back then was far greater. Whiskey production was concentrated in Kentucky, but even smaller cities had their own distilleries. Philadelphia had a total of five, for example. Although the idea seems taboo now, whiskey and bourbon was heavily marketed and sold via the mail. Popular literary magazines such as Munsey's and The National Magazine were filled with advertisements for whiskey right alongside those for Jell-O and patented cures for baldness!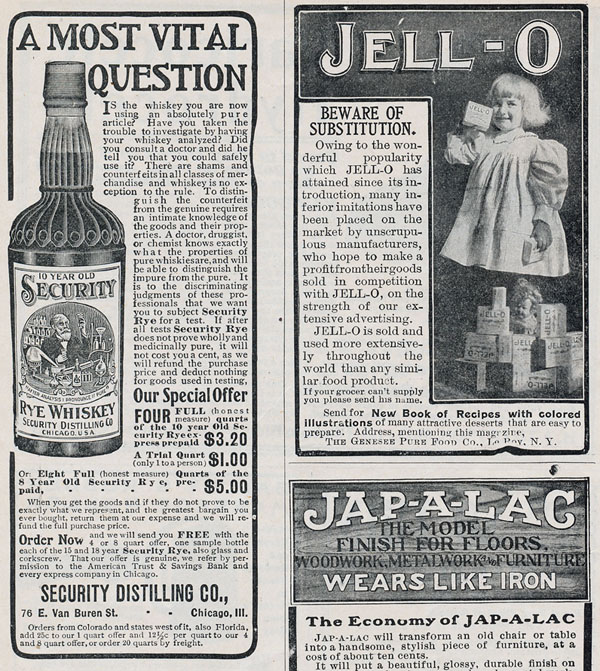 Above:

An advertisement for "10-Year-Old Security Rye Whiskey", from the Security Distilling Co. of Chicago, IL. It appeared in the April 1904 edition of The National Magazine.
Whiskey could be bought through the mail by the bottle, by the case, and by the barrel, shipped in plain unmarked boxes so that their contents were disguised.
These boxes often contained a corkscrew with which to open bottles (pre-Prohibition whiskey bottles were usually corked, like wine), and they often also contained the finely-etched shot glasses that collectors now treasure!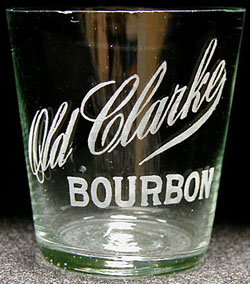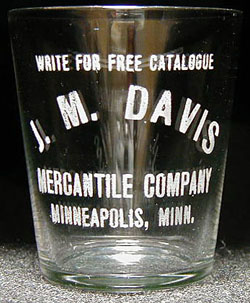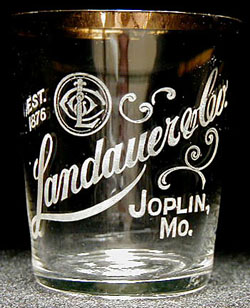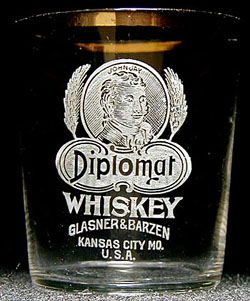 Four fine examples of pre-Pro glasses with typical "white frosted" labels. Many such glasses bear a brand-name only (e.g. the Old Clarke Bourbon at top), whereas others may include city and state information, company monograms, or detailed pictorial images.