Mass marketing of whiskey through ads in newspapers and magazines meant intense competition between the various purveyors of liquor. The main players were the distilleries and the wholesalers, both of whom targeted saloons and hotel bars because they bought liquor in bulk (i.e., by the case or barrel).

Distilleries initially had the edge because their product was consistent and reliable. This contrasted with the wholesalers who, in the years prior to the Pure Food and Drugs Act of 1906, blended raw alcohol with extracts and beading agents to create something that looked and tasted like aged whiskey, but was instead a cheap and often toxic imitation (read a recipe book used by Rectifiers and Blenders for creating a liquors sold as "rye whiskey" and "bourbon"). Once the Pure Food Act had been passed, however, competion intensified and both distilleries and the larger wholesalers tried to lure new customers with advertising premiums. For example, an order for a case of whiskey might be rewarded with a free corkscrew, a glass serving decanter or tray -- and a half-dozen thin-walled shot glasses.



Some large distilleries and wholesalers had been using advertising premiums as a way of increasing sales for many years before the practise became widespread - Myers and Co. of Covington, KY being a prime example. Myers & Co. where distillers who produced one brand only, "Fulton Whiskey", and they promoted it heavily via mailings to liquor retailers, saloons, bars, and even individuals.



The panel above was taken from a 1902 Christmas holiday flyer and featured several offers, with the number of free gifts that one received being proportional to the size of the order (

see complete flyer

). The offer notes that:

"

From this date until December 31, 1902, and not thereafter, we will present every purchaser with a handsome nickeled Tray, a half-dozen engraved Whiskey Glasses, and a patent Cork Puller, which requires only the turning of the handle to extract any cork. This outfit will be in every case of 12 bottles.

"

Fulton Whiskey shotglasses are among the most common pre-pro glasses that have survived to today, standing testament to the success of Meyers & Co.'s marketing strategy and the popularity of its whiskey. Three examples of such glasses are displayed below.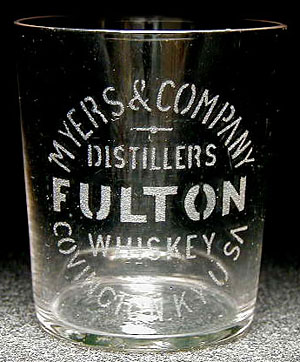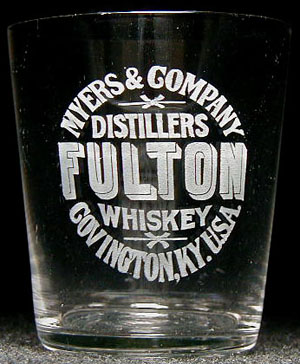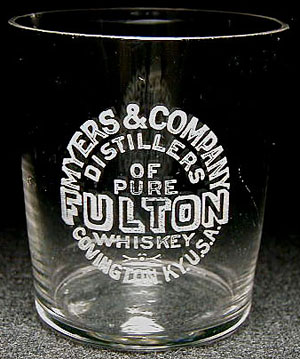 A few liquor dealers ran ambitious incentive programs that rewarded loyal buyers with coupons or certificates that could be traded for various items from a special catalog (the programs were reminiscent of and were probably based on the S&H Green Stamp program that first began in 1896 and continued operating through to the 1980's). Rewards included small items such as pens and glassware, but also musical instruments, firearms, furniture, and even farm implements!

The best-known of these reward programs was operated by the Kellerstrass Distilling Co. of Kansas City, MO. (flip through the pages of one of their catalogs), but there were many others, including one run by the Cloverbottom Distilling Co. of New York, NY. One of their advertisments from a 1903 edition of Munsey's Magazine is shown below.