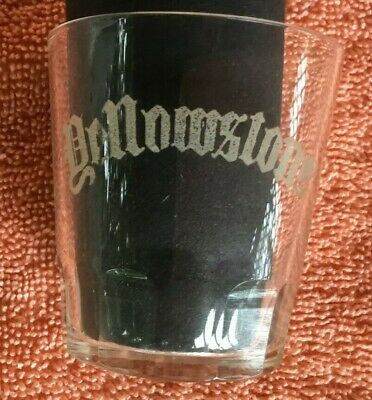 Deciphering the old-timey fonts used on pre-pro glasses can occasionally prove to be a challenge, even to seasoned collectors, but I had to laugh at this eBay auction title. The well-known yellowstone shot glass was billed as a "Dr. Nowstone". Wait, I don't think I have a Dr. Nowstone in the collection – mental note to snipe that one….
For those of you interested in such things, eBay has lapsed into its traditional summer lull. A total of 135 glass auctions closed in the last month. Of these, 66 failed to attract a bid. The average price of glasses sold was $37.81.
Most glasses of interest in the past few weeks have been offered by water_works, a long-time collector better known to eBay regulars under his bidder id rwbeem. Russ has filled his showcase with many fine glasses over the years but is currently trimming his collection. Most notable among the recent offerings were a Red Top Rye highball and a "Standard of the World".
Red Top Rye glasses are highly sought-after and the spinning top is etched in red, so it was a fair bet that the glass would sell in the three figures. rwbeem picked this off eBay for $271 back in January 2015; this time around it changed hands for a still-respectable $172.50.
The "Standard of the World" does not look like much, but it's from Richmond, VA. VA is one of those states with a loyal collector following, and anything pre-pro from there can produce some "interesting" bidder action (think blood spatters and gore). This particular glass first shows up in my database in October 2016, when hottshots, who was selling off junkmoney's collection, got an impressive $350.oo for it. This time around, it sold for $155.38. I've never seen another example of this glass – so far as we know, it's a sole survivor from S G Atkins Co.
Yours truly picked up a couple of Russ' offerings also. The Pelham Club below is from Boston, a city notable for producing some outstanding picture glasses (second only to San Francisco in that respect; by way of example, look at the Sphinx Rye or Owl Whiskey from Walsh & Co.) and also for being an East coast city that, along with New York and Philadelphia, few collectors find sufficiently interesting to compete for glasses from here.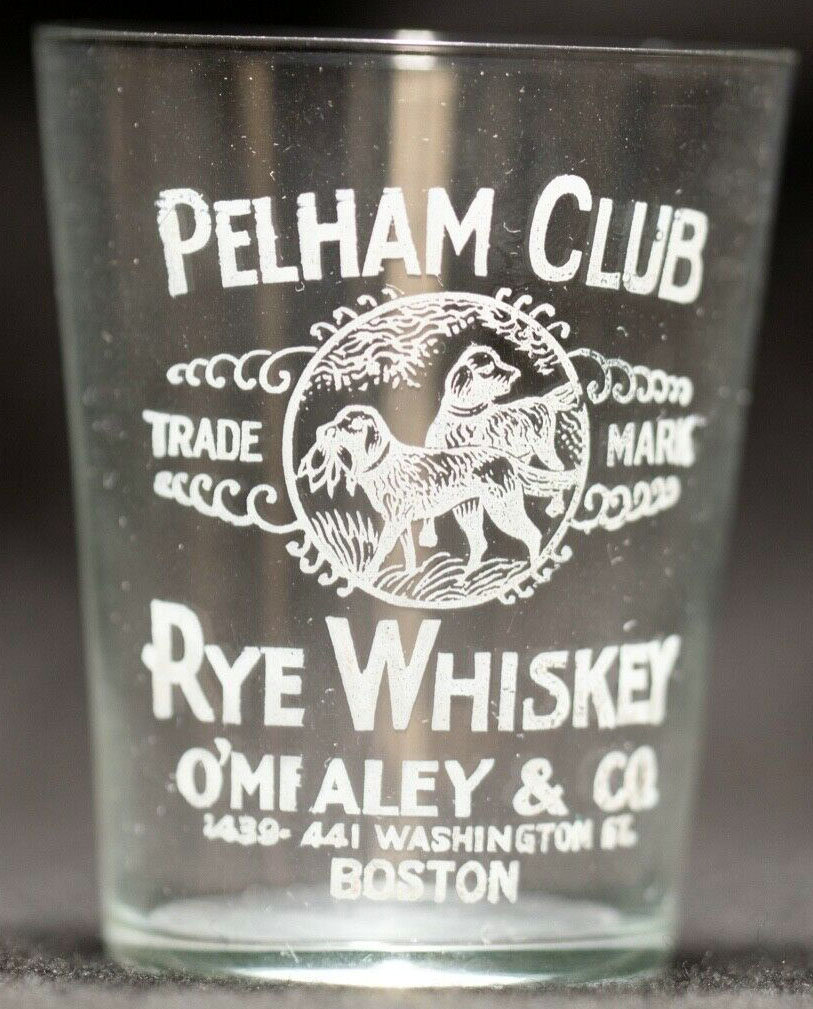 The Pelham Club has an interesting eBay pedigree. glasspicker sold it to bluroc back in October, 2010 for $172.50, and bluroc passed it on to lakerdude33 for $175.00 in December, 2012. Lakerdude33 listed it at $150 in September 2014, and rwbeem picked it up as a Best price offer. Lakerdude33 tried to get it back again this time around, but oldwhiskey had the higher bid at $77.99.
As you'll have gathered from these auctions, the price on the good glasses has dropped significantly in recent years as the field of pre-pro collectors has been whittled down by deaths and people cashing in their collections. Interestingly, the price on solid shots at the other end of the spectrum has about doubled and is rising steadily, which can only be a good sign since it shows a growing interest and appreciation in these old advertising glasses.