Apologies for the frequent interruptions in service, but the site has been overrun with spiders and bots. When they descend on the site, they act much like a denial of service attack by hogging all available server connections. The shot glass, vendor, brand, and other databases rely on open connections to load, so they are crippled by overactivity. It's been a challenge to keep the defensive walls intact.
So, let's start with some data to get us grounded, remembering that we've recently transitioned from summer (when interest in everything pre-pro during non-Covid-infested times has typically been lack-luster) to fall, when buyer interest traditionally picks up. During the past two months, 397 pre-pro glass auctions closed, 173 closed without a buyer and the average price for glasses that sold was $34.80.
There haven't been too many glasses worth getting excited about this past few weeks. There was a Ramsey's Trinidad Aromatic Bitters glass they show up for sale every three years or so and are a budget-friendly way to add a LUG to the collection, even if it's a West Indies LUG rather than a US one. The one below was listed by trsan-5934 and sold for $161.59.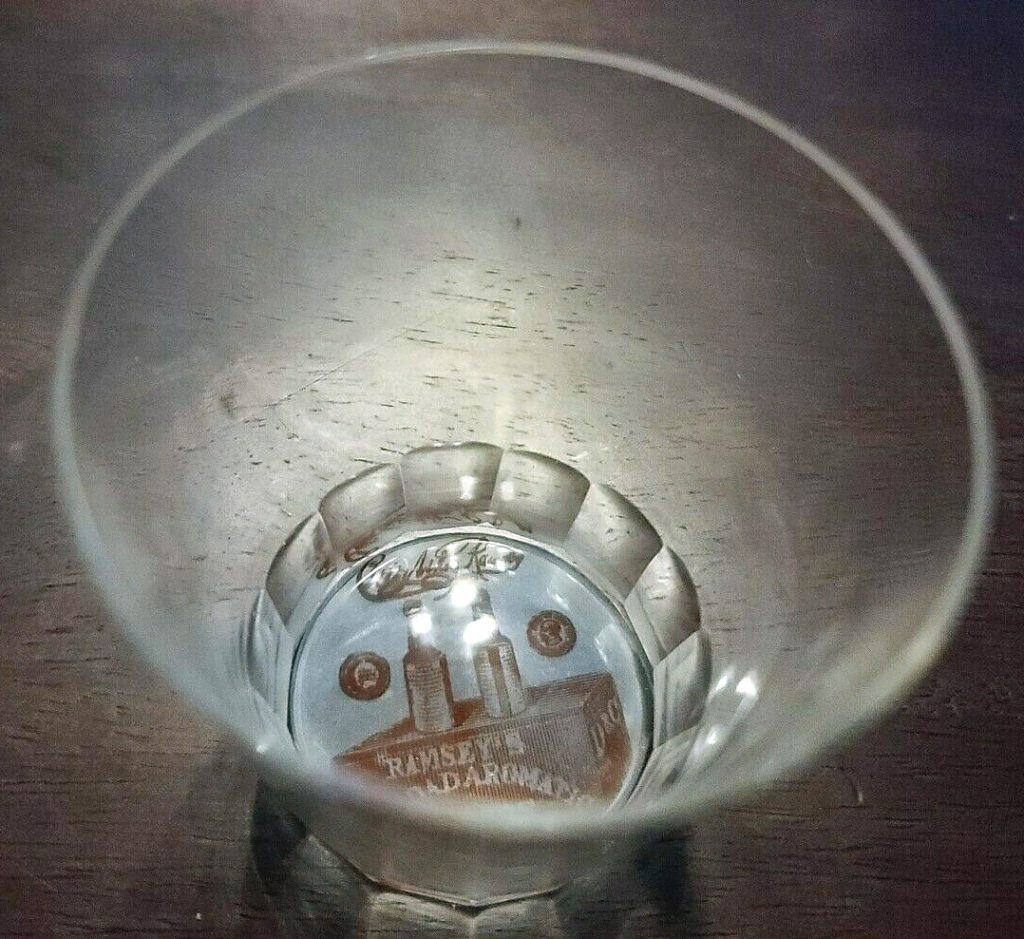 If I had to name a Shot of the Week from the recent past, it would be the Pine Tree enamel listed by humbay. The listing photos were not the greatest, but I think that you can see that it's rare one. The white enamel has retained some of its pastel highlighting (remember- everything was done by hand) and gold curlicues, but what makes it special is the fact that it has a US flag on the obverse. Not surprisingly, it sold for $361.90 and I thought that was cheap, all things considered. Sweet. Very sweet.
There have been a few head-scratcher auctions, prime among them being the Rosebud Whiskey listed by xxxtruk. I'm happy to see a plain-Jane text glass being bid up to a whopping $212.50, beating the previous high for this one by $178.87, but …. Huh? Please can someone explain this to me? I guess it's the Applegate connection (see the database for more details on this glass and its history).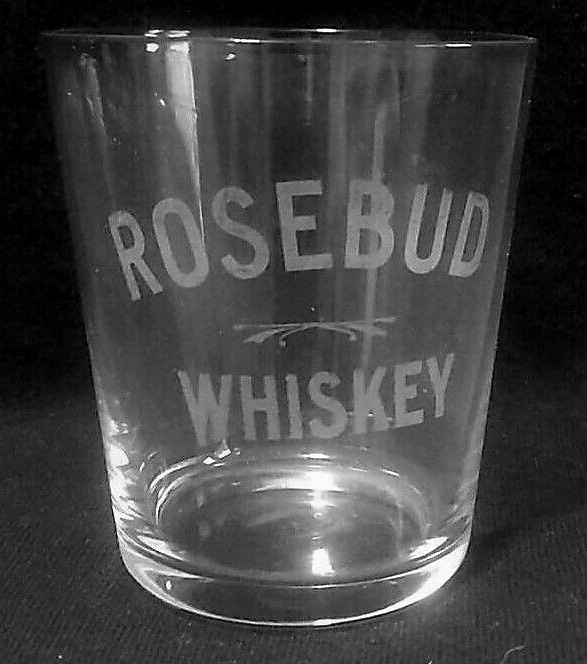 On to the title of this post – pre-pro or not pre-pro? That is the question (sorry Will).
As most of you are aware, there is increasing amounts of flotsam and jetsom floating in the eBay ocean, not to mention dross pretending to be gold (both would sink, so this probably is a bad mixing of metaphors, but hey, this is 2020 and anyone with an internet connection can gain 1,526,845 likes just for say that "The Pope wears red boxers", so not feeling too guilty).
Where was I ? Right – pre-pro.
Soooooooo, now that we're all sitting comfortably, pre-pro means anything produced prior to 1920, when the Volstead Act was enforced. That was 100+ years ago- don't recall seeing any fireworks displays to celebrate that particular centennial anniversary earlier this year, and noone had even heard of Covid-19 back then, so we can't use that as an excuse.
Flash forward 100 years plus 11 months and itsnfs8 (Pam – tsk, tsk; you should really should know better) lists this glass for sale with the title "ANTIQUE 1932 OLYMPIC GAMES PRE PRO ACID ETCHED ADVERTISING SALOON SHOT GLASS "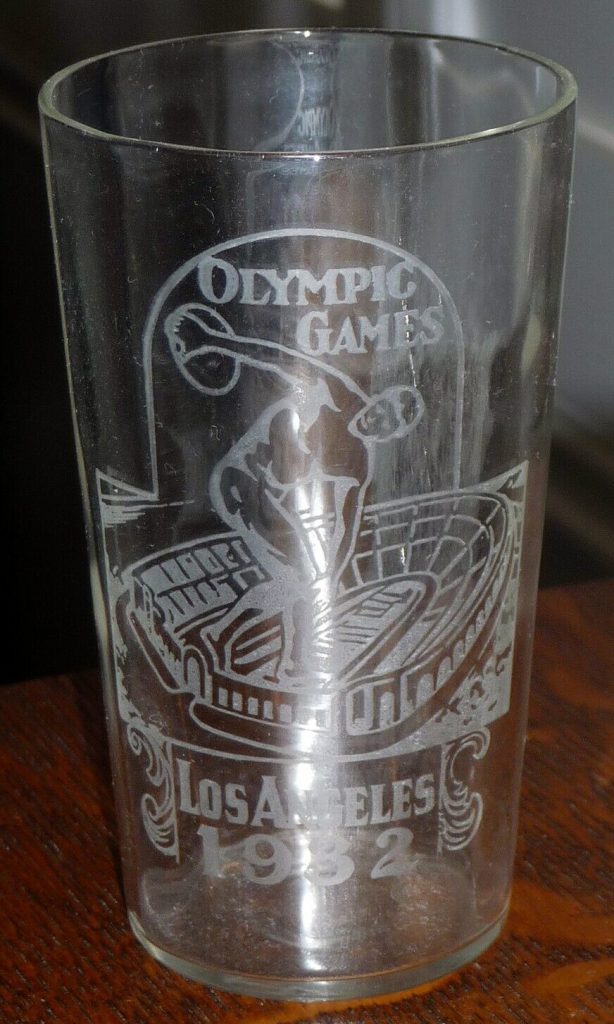 Hello!? 1932??
This is not the only example – here's another: "Lot of 9 Pre-Pro Pre-Prohibition Assorted Antique Glass Shot Glasses; IL IA IN +", listed for sale by askwesell2.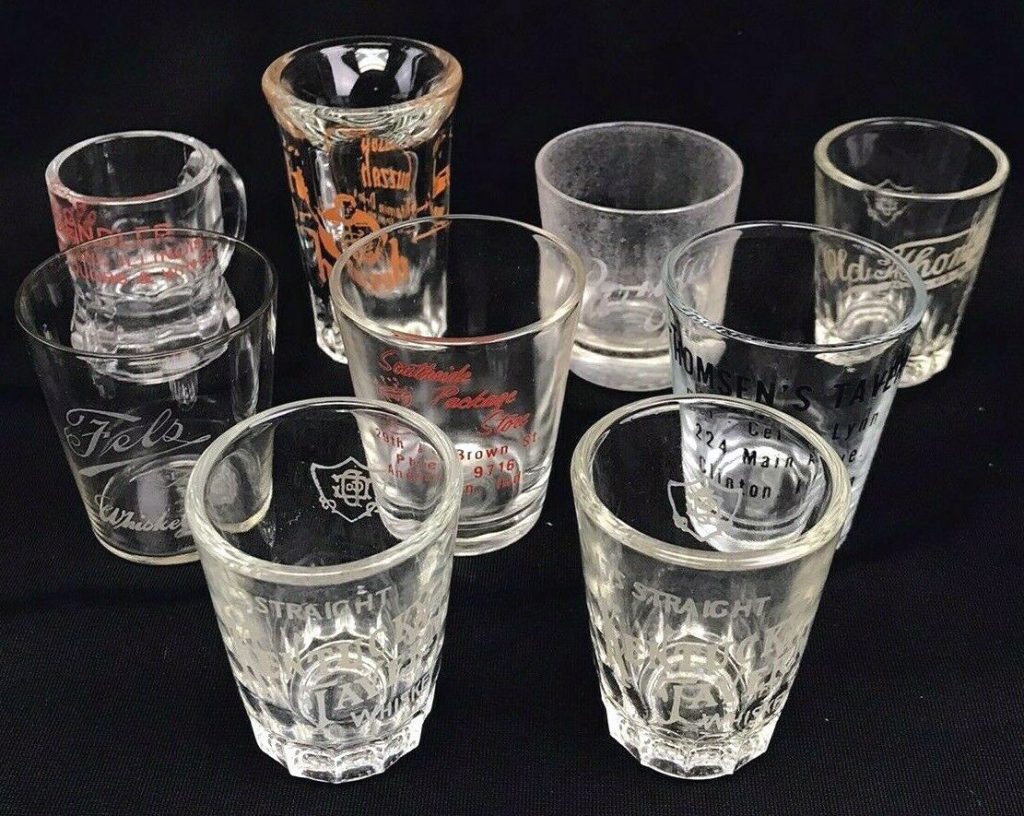 Test time- how many pre-pro glasses do you see for sale here?
doo-doo ~ doo-doo, doo-doo ~ doo-doo, doo-doo ~ doo-doo ~ doo-dudity doo….. etc. etc. (RIP Alex Trebek; 1940-2020).
If you see 9, then you're probably viewing via a Dominion or Smartmatic voting machine.
I see 2. The glasses with red, black, or orange labels are almost certainly not pre-pro (the mini-mug may be early post pro?). The Fels and the trashed Puritan Rye are legit pre-pro. The three thick-walled, molded flute glasses (two Kentucky Taverns and an Old Thompson, both from Glenmore Distilleries) are almost certainly post-Repeal and perhaps early 1940's, but that's just my hunch.
If you like pre-pros that are not pre-pros, there's a bunch for sale on eBay at the moment. Here's a selection;
Before we get a little too cocky – here's a final example of a glass that looks iffy but is a genuine pre-pro: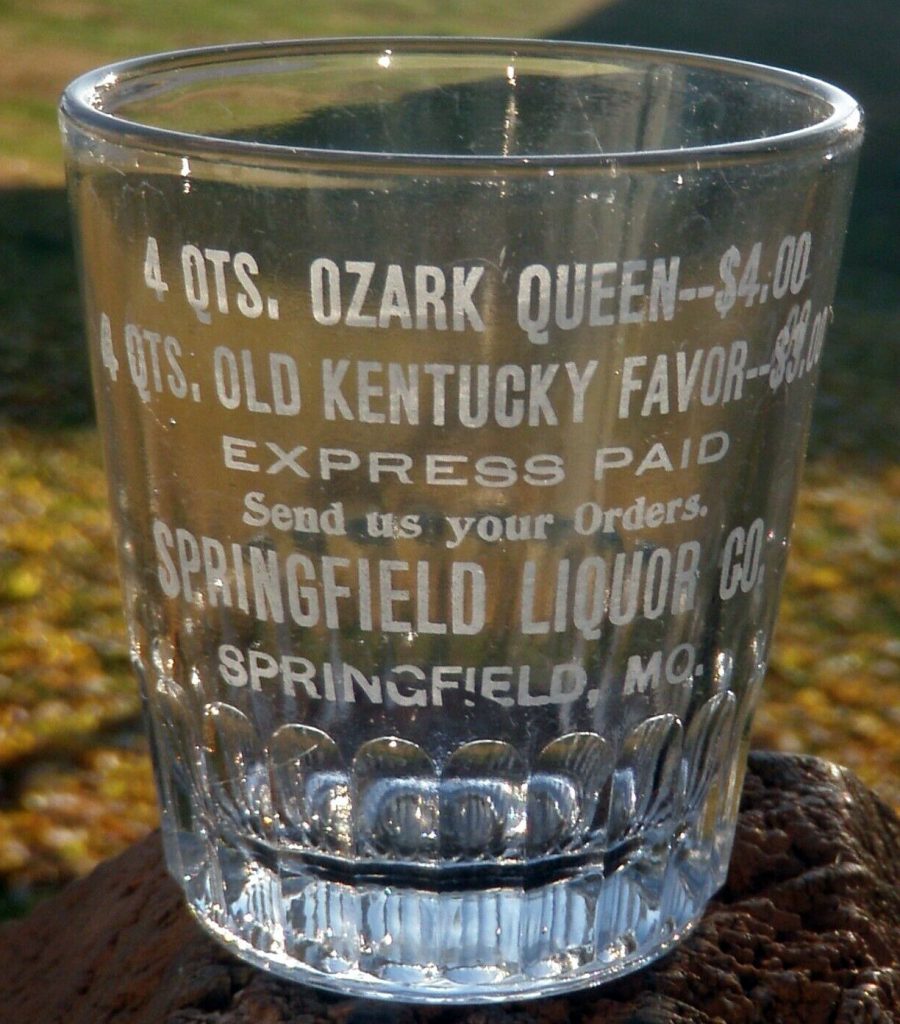 The example above was listed by jcbottles and sold for $27.00. It's a heavy, molded glass – fluted, looks like it could be post-Repeal, right? Right – except that there is a bona fide thin-walled version in the database, so most likely it is actually pre-pro.
Which is why pre-pro shot-collecting is endlessly fascinating, because the more you know, the more you realize that there is so much more to know.