Here we are again, one year older and the world becoming increasingly more bizarre. Speaking of which, here's an email that I received recently:
"Are you the manufacturers of J Bavet Brandy? I have bought this brand for years. Lately the J Bavet lists a Carmel coloring or flavor on the bottle. It has totally made the taste of this liquor awful. I bought 2 1.75 liters which apparently have this flavoring. I am again out $18.75 per bottle. I want refunds since this is not the original Brandy you used to make. Why have you changed the formula to this bad tasting Brandy? Please respond."
Anyone want to respond? Please leave a comment below.
I also received a special offer from eBay – you probably did too if you have this one bookmarked. The Springdale glass shown below orginally listed for $600 and I was "surprised" noone grabbed it there and then. The special offer is a $200 discount. At $400 how can one resist?!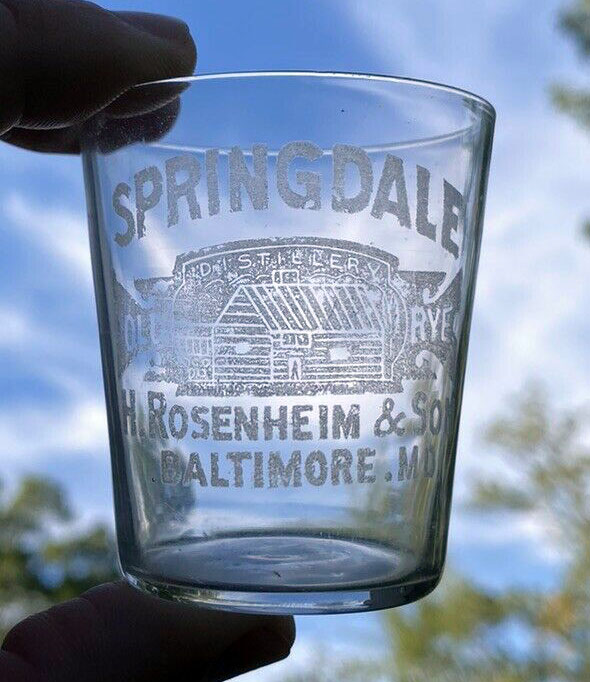 In case you're wondering, these glasses are not that common and they usually sell in the $30-$50 range. The one above appears to be a minor variant of the example in the database (the brand name appears as a single word rather than SPRING and DALE).
Here's one I've not seen before – a Lebanon Club from Detweiler & Co. of Lebanon, PA.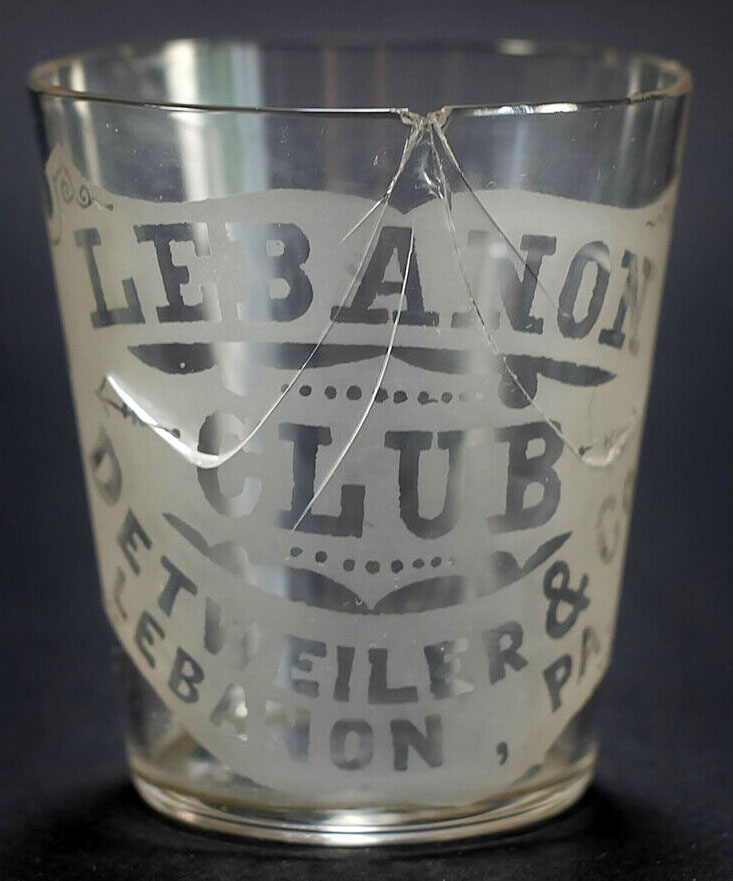 The auction currently has two days left to run and is offered for sale by thechocoberry. This glass has a similar design to an Old Tom Gin and Old Hickory Rye from the same Lebanon liquor dealer.
As you can see, the glass is badly damaged, although I appreciate the listing's creative description:
"The shot glass has a frosted or etched text that reads "Lebanon Club, Detweiler & Co., Lebanon, PA." It measures 2-1/8″ tall with an opening diameter of just under 2″. It is very thin glass and as you can see has quite a few fractures. There is only one little chip on the rim and that is the culprit that caused all the fractures. One of the pieces has been glued back on (whoever did it did a very good job). Yes, it's badly cracked, but still a great displayable piece. "
Only "one little chip in the rim" but the chip caused the entire left side of the glass to break out and has been glued back together! That makes it a placeholder with curiosity value only, which is a shame because it's a rare and probably old Truog glass. Current bidding stands at $14.50.