…and a welcome to Millionaire's Club!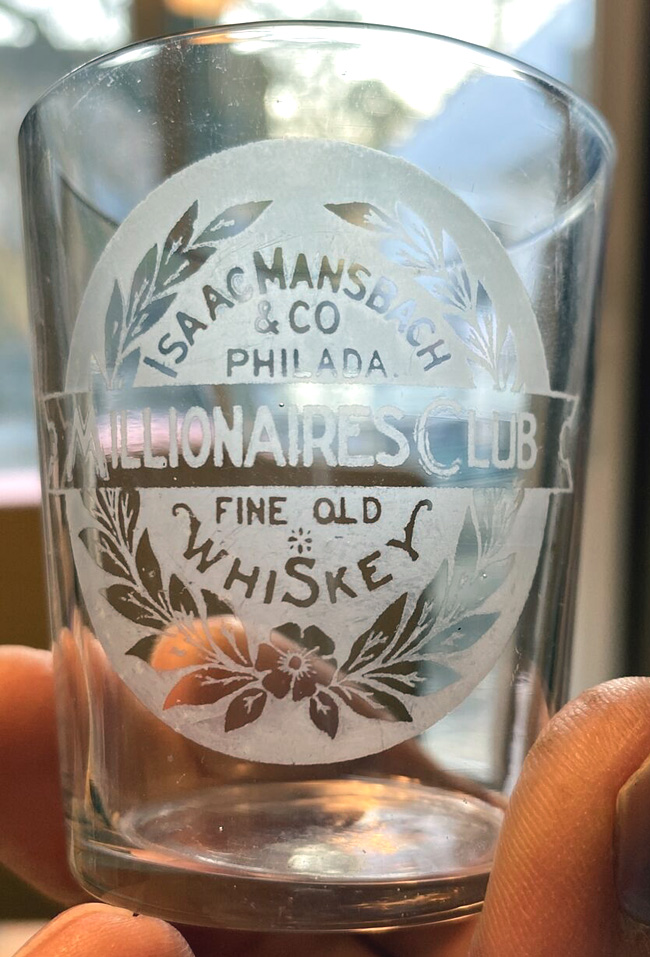 This glass caught my eye for a number of reasons, not the least of which is that Isaac Mansbach & Co. hailed from my old stomping grounds of Philadelphia, PA.
Mansbach & Co. were in business under this name from 1897 to 1914 and left us a handful of interesting glasses. The images in the database are poor and need updating, but the "Ten Years Old" glass is a beauty and lives in one of my top 1% cases. Another Mansbach glass appears to be the handiwork of George Truog, although there is no signature.
Anyone familiar with Truog's work will also recognize the label on the Millionaires Club glass shown here to be one of his also. The flower-and-wreath design is a classic Truog, as is the small design located between "Fine Old" and "Whiskey."
What I find interesting is that a similar flower-an-wreath design appears on two gold Thos. Pollard glasses, one of which is shown below.
Pollard was based in Pittsburgh, PA. Did Truog produce these glasses also? Gold labels are extremely rare. Aside from the Pollard whiskies, I only know of four others, all Shriner glasses. Three from the Syria Temple of Pittsburg, PA. the other a Hermann Loge of Philadelphia, PA.
The Millionaires Club glass shown above was listed for sale by eBay seller hear_2 and it fetched $70 in a "best offer" deal.