Glasses from the Southern US States (FL, GA, AL, MS, LA) are relatively rare; a quick search of the sales database turned up only 10-20 from each of the States listed above. If I were pressed to name a liquor dealer from each of these States, I'd maybe come up with Sprinkle or Moog from FL; Loeb, Lion & Felix (LA); Arey (AL); and Rufus Rose from GA. Rose gave us the "Four Roses" brand name that was later sold to the Paul Jones Distilling Co.
Rose was originally from CT but he settled in Atlanta, GA. When GA went dry in 1907, he moved his operations 100 miles up the road to Chattanooga, TN., but he also maintained sales outlets in Jacksonville, FL. and New York City. Rose glasses that show up for sale most frequently are Ask the Revenue Officer glasses bearing the Rose shield, as shown below. "Frequently" does not mean common; I've only seen a handful of examples of each of these.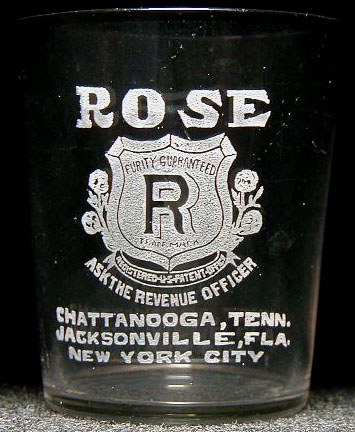 Rose glasses from Atlanta are very rare and typically in iffy condition. All of this is a long-winded way of saying that I was interested to see a Jacksonville/Atlanta glass list recently.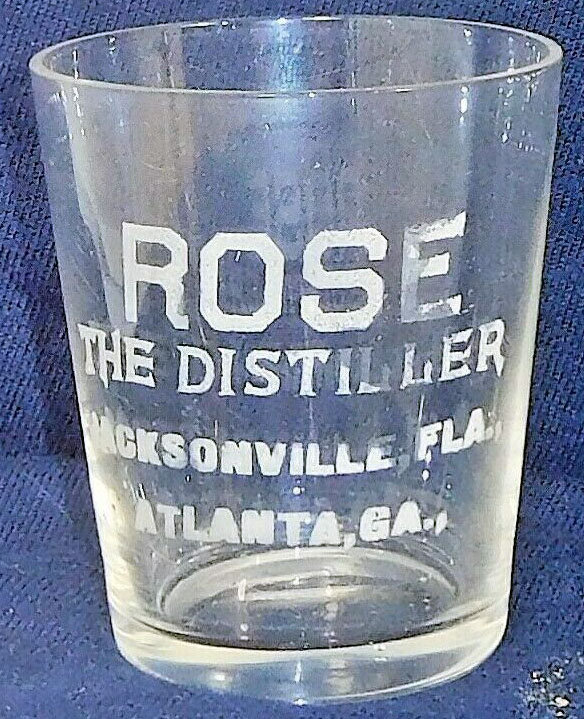 The glass was listed by gator-ben for $49.99 – not an insignificant amount – but was quickly bid up into the three-digit range. Unltimately, it sold in a bidding war between 1***j and 5***a for a whopping $510.00.
gator-ben also did pretty well on a Forefather Corn "porc" from Rose: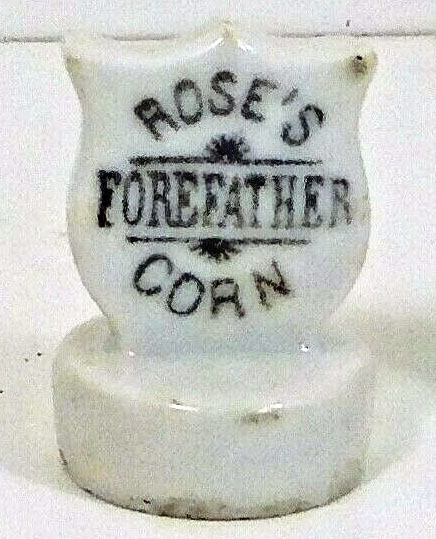 This is a porcelain bottle-stopper that was have been used on the back-bar of a saloon or hotel bar. The porcelain would have a cork glued to it originally, but these usually get lost over time. The example above sold for $420.
Here's another pricey glasses, especially considering the poor condition.
Although it's difficult to tell form the listing photo(s), the glass reads "COMPLIMENTS / OF / (line) / DALLAM (slanted) / (line) / DISTRIBUTING CO. / OLD GOODS EXCLUSIVELY / PADUCAH KENTUCKY". The glass was first listed back in 2015 (left) for $44.99; the seller id back then was mantiques1946. It closed without a bidder and did not relist until this month, the seller id now andrewshane. The seller first offered it for $194 and it closed without a taker (no surprise there), then relisted for $164. I figured the glass would slowly circle down the relisting drain until the initial offering price stood at $0.99, but someone grabbed it at the $164 mark in a buy-it-now (big surprise there). Um. Okay.
Here's one to watch.
It's a plain-text "HAYNER" with a dodgy gold rim, but it caught my eye because the seller is offering it with a box that I initially thought the glass must have come in. On closer examination, however, the box is far taller than the glass and probably held a mini sample bottle of Hayner hooch. An interesting find in itself – the auction is currently at $26.06 but will likely close much higher.